Support
In order to use the product safely, Thinky is enhancing its support system.
Before purchase
According to customer's application, we will review the usage conditions through a free demonstration, select models and respond to your needs. Please feel free to contact us.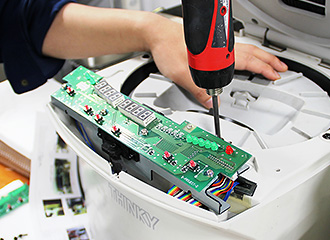 If you wish to lend a demonstration machine, shipping fee and insurance fee will be borne by the customer. Because correspondence varies depending on model and country / region, please be careful.
At introduction
Along with delivery and installation of machinery, we will confirm that it operates reliably, we will tell about handling recipe adjustment, operation method and simple maintenance suitable for the material to be used.
After starting use
Please do not hesitate to talk about the issues that we did not expect before purchasing. We will respond appropriately, such as reexamination of conditions accompanying material change, change of containers / adapters, periodic maintenance, relocation, repair etc
For service and support, correspondence varies depending on the country and region. Please contact the contact point in your area. Also, if maintenance and repair are required outside of the country you purchased, it will be handled in the country you purchased in principle.